As we continue to explore the topic of love and what it is and isn't, I was reminded about how death helps us to see more clearly the big loving hearts of friends and family. Geraldine and I received calls about the deaths of a family member and of Rudy Rudran, the spouse of a friend on the same day recently. Being part of the communities that came together for both reminded me of the power of love over a lifetime. Our family member was 93 and our friend 92. Both gatherings overflowed with stories of love and service and reminders that love is possible and even essential even when life is tough.
What follows are some reflections on the life of love that Rudy Rudran shared with his wife Ranjinee (Ranji), my friend. First are my own reflections which are followed by those of Patricia Medici, a mentee, professional colleague, and friend of Rudy, which are reprinted with Patricia's permission from a Facebook post she made the day of Rudy's funeral.  
Ranji Rudran came to work with me at TransitionGuides, a nonprofit consulting company, after she retired from a position at the World Bank. Ranji had been part of the administrative team there and we were excited to have a person with her organizational and office skills join our team. We quickly learned that what Ranji did or didn't do on the two or three days a week she worked was nowhere as important as the spirit she brought to her work. Quiet, gentle, kind, Ranji quickly became the heart of the office. When there was stress, Ranji helped calm things down. When there was a need for the team to meet and reconnect and reset our course, Ranji invited us to her home for lunch. Born in Sri Lanka, any meal with Ranji was divine.
Ranji eventually retired from TransitionGuides and moved to Florida to be closer to her daughter. Being a Grandmom became a big part of her life along with joining Rudy in supporting his continued interest in his passion for the outdoors and endangered animals and in their shared love and fidelity to their homeland, Sri Lanka. In 2022, we visited Rudy and Ranji and had the most pleasant lunch, enjoying Ranji's delightful food and the warmth and fellowship of being with them. Conversations included stories from Rudy's work at the Smithsonian directing the Wildlife and Management Training Program, proud reflections on our children and grandchildren, and explorations of the similarities and differences among Hinduism (Rudy), Buddhism (Ranji) and Catholicism (Geraldine and me). We left with our spirits full of the goodness that had been exchanged and aware of the kindness and generosity of Rudy and Ranji.
Geraldine and I went to the funeral home to visit with Ranji, her daughter Mintaka and their family and friends. The next morning, Patricia Medici, a student and friend of Rudy's, posted on Facebook an essay of appreciation. Her message so captured Rudy's spirit and by extension Ranji, I am reprinting the post here. To me, it shares the essence of Rudy's life of love and service to others. He had a mission and gave his life to it. Ranji has a mission and is giving her life to it. When we follow our hearts in both what we do and how we do it, we experience love and pass it on to others. What else is there?
Facebook post by Patricia Medici, April 19, 2023
His name is Rasanayagam Rudran … but everyone calls him "Rudy" Rudran. He was born in Sri Lanka in 1941 and he came into this world to make a difference in the lives of thousands of conservation students and professionals from around the world, myself included. Rudy established and ran the Smithsonian Institution's Wildlife Conservation and Management Training Program for decades, and many of us had the incredible opportunity to take his 5-week course in places like Africa, Brazil, China, India, Malaysia, Nepal, United States and Venezuela among others.
I took his course in China in 1995. He got me a full scholarship and made it possible for me to attend. I will never forget arriving at the campus of the Shanghai University right before lunchtime… straight from the airport after 72 hours of travel … in the hottest day in China in 20 years … and being greeted by Rudy and his big smile. I was 23 years old, my English was VERY basic (not to say non-existent!) and I was hungry. He fed me (first time eating soup with chopsticks!) and introduced me to my classmates including people from China, India, Nepal, and the Philippines. We had our first introductory classes that afternoon.
That course was a life-changing experience and since then Rudy has been one of my conservation mentors. Actually, he was more like my "conservation father"! He was a person I would go to for those precious pieces of advice. He was there for every single step of my conservation path, cheering me on, offering support and constructive criticism. One day, I told him I was thinking about training to climb Mount Everest. He laughed and said I was very much capable of doing anything I wanted. But he also said I would be better fit for the conservation career and not so much for climbing in the Himalayas!!! After that conversation, whenever I told him about a recent accomplishment he would say: "See, girl, you are climbing YOUR own Everest".
Some funny stories: He made me sing at a karaoke party in China, one of the most embarrassing things I've ever done. Also in China, he made me climb a mountain in the middle of a bamboo forest to go to a little village at the top to buy beer and cigarettes for him (and for myself as well, of course.)
In 2019, I received the National Geographic Buffett Award. When I gave him the good news, he said: "I am coming to Washington. I want to be there when you receive the award." Man, was I happy!!! Rudy and his wife Ranji came. It was TRULY special to be up there on stage receiving the award and have the incredible opportunity to thank Rudy Rudran in public for everything he had ever done for me … The next morning, I had the following message from him: "Dear Pati, You were wonderful last night! Words cannot express the overwhelming pride I had when you were on stage. Keep going, girl and I will be rooting for you until the day I die. A million hugs, Rudy".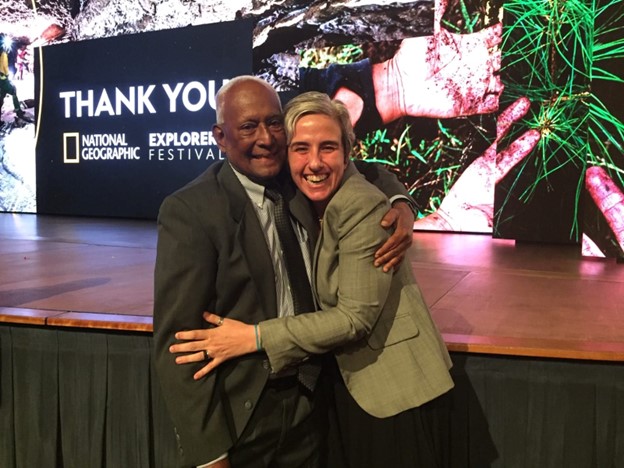 Rudy passed away on the 10th of April. He had been battling with Idiopathic Pulmonary Fibrosis for the past two years. Tomorrow he will be receiving his Hindu rites and taking his final journey out of this world.
Thank you so much, Rudy, my conservation father. I promise I will keep aiming at my own Mount Everest … and I know you will be watching from up there and smiling your big smile. I miss you already.
Patricia Medici is a Brazilian conservation biologist who focuses on tapirs. She is the founder of the Lowland Tapir Conservation Initiative.